HeHe :oD  What is the fun in having friends if you can't do a bit of a favour for them every now and again??  When I heard that this little chap was up for an award, I just knew I would have to shine the spotlight on him over here :o)
So, with out further ado, I'd like to introduce you to Flamenco Fandango!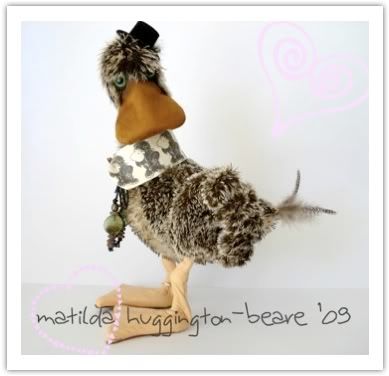 He is made by the lovely Wendy, whose work you can see more of here.  He's a bit of a cutey huh?!?!
He is up for an award in the "Artist Bear Friend" category of the Australian Bear Creations Awards 2009.  Voting forms are in the latest issue (vol15 no1), and so far I think you have to buy a copy of Australian Bear Creations to be able to vote.....I did hear rumours about online voting, but I will have to look into that and get back to you :o)  But for all you Australian residents, here is the perfect excuse to grab a copy of ABC and have a jolly good read....go on :o)  you Know you want to *hehe*!  Oh and please vote for Wendy too, won't you :oD
*EDIT*   I have contacted the magazine, and there WAS online voting, however it appears that someone with too much time, and not enough grey cells (pls note, my wording not the magazines) decided to launch a denial of service attack and bring the page down.  Not very very polite really, was it?!  Anyway, it is still possible to vote online if you download this and return your answers to this email address  adcopy@woodlandspublishing.com.au