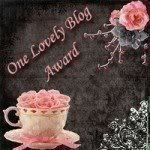 The lovely Melly of Melbears Quality Collectibles has tagged my blog for the "One Lovely Blog" award :o)  What fun!!  Thanks Mel *mwah*
The deal is that once you are tagged, you have to answer the following questions (deleting one you dislike, and replacing it with a new one of your own)...then you have to tag 7 other blogs that you feel are deserving of the description...but first to the questions:
What is your current obsession?
beauty blogs
What is your horoscope and do you relate to it?
I am a Cancer, though I was born 2 weeks late so I should have been a Gemini....and I do combine an odd jumble of traits from the 2 signs.  Hmmm, I wonder, how does when you should have been born interact with when you were actually born?  Particularly pertinent in this age of scheduled caesarians I'd suggest...
What are you wearing today?
A knowing smile 
What was the last thing you bought?
A pair of black/white Chuck Taylors...If I like 'em I'm going to get a pink/purple pair too :oD
What is your favorite Holiday?
Christmas - I am unashamedly addicted to fairy lights, and what better time of year to go nuts with strings and strings of them lol!
A guilty pleasure?
life is too short to indulge in guilt, though on the rare occasion I do, it usually because I have buried my head in a book, pointedly ignoring all the other things demanding my attention ;o)
What is your must have item for Summer?
A lovely fresh pedicure...I feel naked with out nail polish!
If you could go anywhere in the world for the next hour, where would it be?
A street cafe in a fashionable part of Paris, where I could sit watching all the glamorous people strolling past and soak up the atmosphere
What is your favourite piece of clothing from your closet?
A fitted black shirt with tiny white spots, white piping and puffed cap sleeves - it is a really cute retro chic design
What is your dream job?
working in the Behavioral Sciences Unit of the FBI....quite a way from teddies hey lolololol
What do you consider a Fashion faux pas?
grottiness *shudder*...not washing is so NOT cool
When I was a child I wanted to be......
....taller
What are you going to do after this?
Hit publish and go get a hot cup of tea.  Mmmm hot tea.....
What are your favourtie past-times and hobbies?
reading; music; watching old Hollywood (and the English equivalent) movies; cold war espionage - fictional ( James Bond etc) and factual (Cambridge spies etc);  criminology;  sewing;  internet shopping;  watching cycling - Yah!  Only one month to the the Tour De France :o) 
Have you got pets at home?
4 cats:  3 siamese females - seal point Louise (aka Weiner) and 2 of her daughters, blue point Cricket (aka ducky) and lilac point BB.  1 chocolate Burmese male called Jamie
Hand rearing my kitty Cricket from an extremely sick newborn, to the healthy little (7 yr old) monster she is today...wanna see a pic of my baby?  K :o)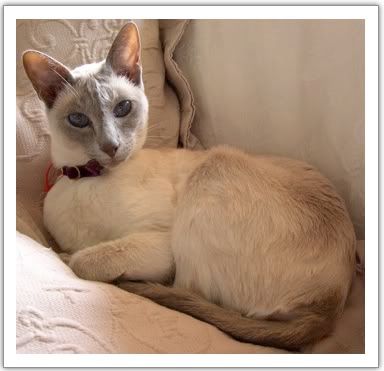 ....and the 7 blogs i choose to tag with this award are
Karen's Bears and Other Things