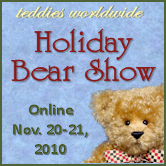 Sewing sewing sewing.. and a bit more sewing.. is the order of the day here at Chateau Teddy. It is a gorgeous sunny day here in Melbourne, so as soon as I hit publish on this post I'm going to grab the *censored* I'm working on and sew out in the sunshine :o)
So why can't I tell you what I'm working on... well it is a bit of a secret until this weekend! I am one of 75 artists from around the world participating in the inaugural Teddies Worldwide Holiday Show, and you are only allowed a sneak preview of one bear for each artist... which makes what I'm doing today Top Secret *shhhhh*! don't tell Daphne I even hinted at anything *winks*
So, yeah, one preview picture.... and mine is of Benson the duck. Who is doing his very best to look suave as he tries to woo you with his bunch of silk flowers lol. He's a bit of a smooth one is my Benson *nods knowingly*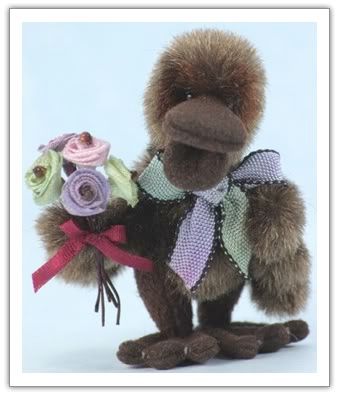 So have I piqued your curiosity? Want to see more? Excellent!! For there is much more to see :o)

CLICK HERE

and you can see a preview picture of one ted from each of the 75 participating artists.
You want to come now don't you? Don't you!! :o) I know you do - how could you miss it lol! So, on to the details.... The show opens on Saturday the 20th of November at 9.00am New York time, and then finishes on Sunday 21st at 4.00pm New York time....
I don't know about you, but that whole time zone conversion thing does my head in, so here is a

LINK FOR YOU TO CLICK

so you can see exactly what time it will be in your neck of the woods when the show opens... It will be 1am Sunday morning here! Ah, the interwebz, thank heavens It never sleeps :o) :o) :o)