This is a pile of miscellaneous bits of fabric ...
This is what happens to those said miscellaneous bits when - with a needle, thread and a few stitches - I work my magic and "Hey Presto"... A wee ted who answers to the call of Ted, Super Ted! is born!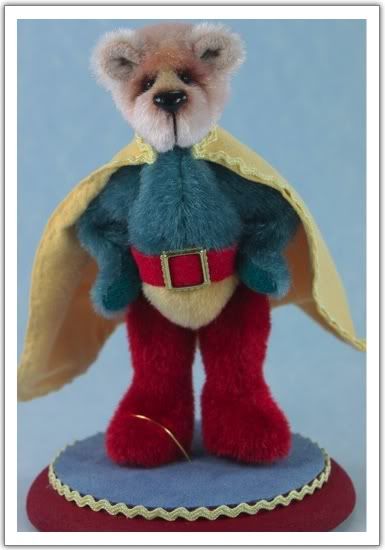 This is Felicia Hymer, She answers to the call of The Bear Scout (welllll she also answers to Felicia, but lets not get bogged down in details lol).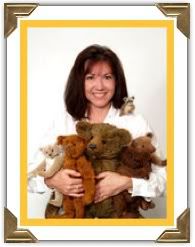 Felicia offers the wonderful service of acting as a representative (or scout) for many artists. One of her services is to take teds around to shows in the US so that artists, like myself, who are unable to travel the distance, still have the opportunity for US collectors to greet our teds face to face!
Utilizing his super powers, Ted, Super Ted! has flown to the arms of Felicia, and this weekend both will be traveling to the Crossroads Doll & Teddy Show in San Deigo, California. Details can be found

HERE
To whet your appetite of what you may see if you are able to pop in to say hello to Felicia and the bears, here are a couple of shots of The Bear Scout tables (taken at a show in 2010). What you see before you is 4 tables choc full or gorgeous teddies and friends... Definitely worth a trip if you are in the area!