So, I've been tossing around the thought of some 'Work In Progress Wednesday' posts, but up to now things have worked against me ... a computer that keeps spontaneously shutting down, followed by a modem that goes on the blink the second the computer returns from the hospital will do that to a girl :oP But finally, here I am :o) Shrinky tags come up fairly regularly in bear forums, and elicit a fair bit of curiosity from collectors, so what better way to begin 'Work In Progress Wednesday' than with the process I followed to make mine this afternoon?!
I can vaguely recall thinking "hmmm time to make some more shrinky tags" when I was working on the teds for the Bears On Parade show ... but then, as is my way, I got distracted by something else and promptly forgot about them *eye roll*. Last night, I discovered that there is a distinct shortage of the smallest ones I use, and that more would be needed PRONTO or there would be bears heading out into the world with out the proper identifiers, and that would never do *shakes head solemnly*.
Lets get started, shall we :o) Last night I printed out a couple of sheets so they had plenty of time to dry. This afternoon, I settled myself in the dappled shade of Chateau Teddies garden table and got to it...
First comes cutting the sheets into strips so there is easy access for punching holes ...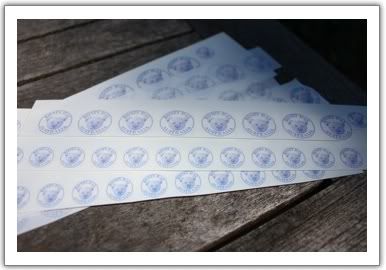 then punch punch punch etc. etc. etc. Which one does until ones hand starts to feel like it is going to cramp, go numb, fall off or an interesting combination of all three :oP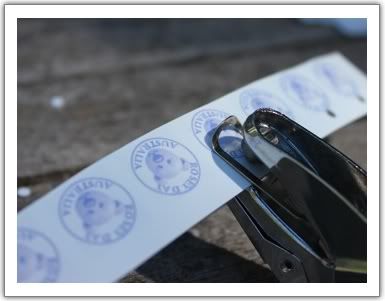 ... until *PHEW* all done :o)
Next comes the snippy snippety snip SNIPing bit..... don't forget some rockin' tunes to listen to as you are ..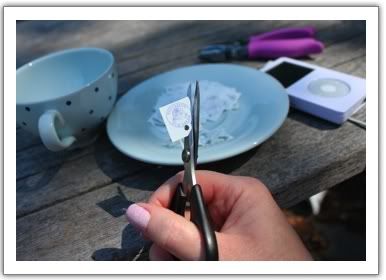 working through the pile in the saucer, happily watching as the number in the tea cup swells until ...
TEA TIME!! One must keep ones strength up, and good hydration is So Important don't ya know :oP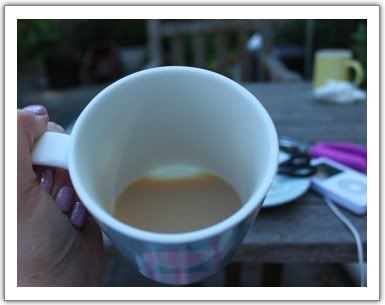 once rejuvenated it doesn't take long to reach the finish line .... YIPPPEEEEEE!!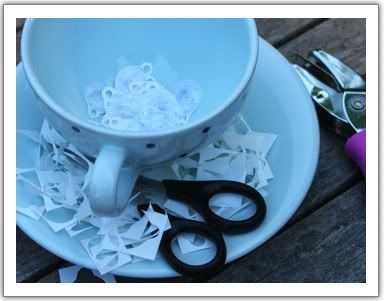 Which, of course, isn't the end of the story, but the cookery bit can wait until tomorrow ... Work in Progress Thursday ... just doesn't have the same ring does it lol. Lucky Thursdays here in Aus are actually still Wednesday in the USA lol :oD
You play with MEeeee-now?
SIDE NOTE: I don't have any one particular brand of shrinky plastic that I favour, though I have found I prefer the way the opaque white stuff looks to the clear I made my earlier tags out of. Generally when I need to buy more I head over to ebay and search for 'white bubblejet shrink plastic' - it's not failed me yet :o) Though I will admit that different brands shrink more horizontally or vertically, so if you are a bit less laissez-faire about how yours turn out, it is something to keep in mind :o)