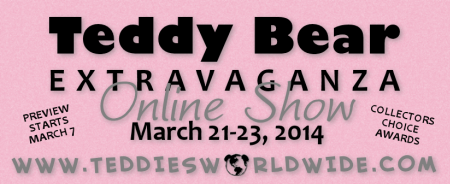 I have to confess, I was going to wait until just before the show began to blog about it … it is very late here in Aus now, and I am exhausted and feeling really unwell, BUT, as they say, the show must go on, so I'm taking a quick break to recharge the creative batteries before I start sewing noses.
Oh Yes, i *am* That far behind in my preparations for this show :o(
Anyway, I had been sitting here scoffing erm politely consuming spaghetti with my impeccable manners whilst watching cycling on the telly… but as i am a super efficient multitasking super woman *cough*, I also opened my laptop and began browsing the preview bears.
Yeahhhhhh so complete multitasking super woman fail! My pasta is stone cold, and I couldn't tell you who is leading the peloton (or break away?) right now coz i got totally and utterly distracted by the awesomeness of the preview bears …. all bears this show, Teddy Bears is the theme itself.
I finally made up my mind who to vote for in the Collectors Choice award ….. may I just say what an awesomely strong Australian contingent there is in this show. Like WOW!! I know the kind of talent we have here coz I saw it at the Woodend Show last year, but yeah … just WOW! There is no need to take my word for it, if you haven't already seen the bears, you can head over to
the show page
where the link to take you to the preview bears awaits :o) Just don't dally too long if you wanted to vote coz on the 19th, the preview ends and the show begins in earnest, which means shopping, which is probably more fun that just voting huh lol … but happily, you are most welcome to do both :oP
Oh, and while i have your attention - and before i sign off - I should probably plug my little girl huh lol!?! Mmmm, so here she is, two and a half inches of cuteness called Flossie. Better go make her some mates now hey!