The creative juices have been flowing here at Chateau Teddy - I have FINALLY worked out how I want to make the dragon i have been contemplating for...oooooh 5 years now lol!  YAH *dances around in triumph* I am really excited at the thought of putting pencil to paper and starting to draft the pattern!!  I even made the most of my time in the dental chair, the other day, to nut out how I would make the claws....who woulda thought that dreaming of dragons could be such a good defense against the monster that is the dentists drill lol!
I would *like* to think that this time next week will find me in a similar state to now - happy, warm and comfy on the sofa, secure in the knowledge that ALL my bear work for the day is done (maybe even with the added bonus of my football team, again, doing as well as they have this weekend lol).....the reality will more than likely be quite different, but still, it is an alluring thought :o)
So, why would I care about this time next week??  Good question!  This time next week will be Saturday May 2nd.....the Melbourne Teddy Show, at which the fruits of my last few months labour will be found, is on Sunday May 3rd.  EEEEP :o/  Will I be as calm and relaxed as I am now?  Probably not lol!  Will I be ready.  Absolutely!   The bears will be too :o)  There will be a selection of new little critters putting in an appearance, and to make sure you can find them, here are the details you will need: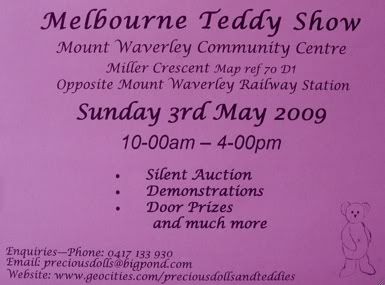 ]

Please do stop by if you possibly can, and IF you have any questions, please don't hesitate to drop me, or the lovely Brenda (organizer), a line on roseyday@netspace.net.au or preciousdolls@bigpond.com respectively :o)  We really hope to see you there!!
p.s. for a bigger version of the pink show flyer please visit the show news page of my website here